Located a couple hours east of Manhattan, the Hamptons hamlets provide a much-needed respite from the chaos of urban life in New York City. Long Island's South Fork is home to pristine beaches, unparalleled luxury real estate, and a quiet, relaxed atmosphere. With many ways to rest and rejuvenate, the Hamptons are a classic backdrop for an NYC weekend getaway.
Below are the five best places to unwind in the Hamptons.
Topping Rose House
A Greek Revival mansion dating back to 1842,
Topping Rose House
is a Bridgehampton treasure. The historic mansion has since been transformed into a full-service luxury hotel, offering any modern amenity you could desire for a weekend getaway. Whether it's room service from their in-house restaurant, Jean-Georges, or time spent in the lap pool, spa, or spacious gardens, the staff at Topping Rose will meet your every need.
For the utmost tranquility, stay at one of their private cottages. Each cottage is equipped with a patio or roof deck and private outdoor space. Additionally, guests enjoy all the fitness center offers, including yoga, cardio, and dance classes. If cardio isn't for you, take one of Topping Rose's luxury shuttles to Ocean Road Beach—located just three miles away. Soothe your sunburn with Farmaesthetics products at the spa to calm your skin, and prepare you for the week ahead. As a member of the Small Luxury Hotels of the World, Topping Rose House is guaranteed to please.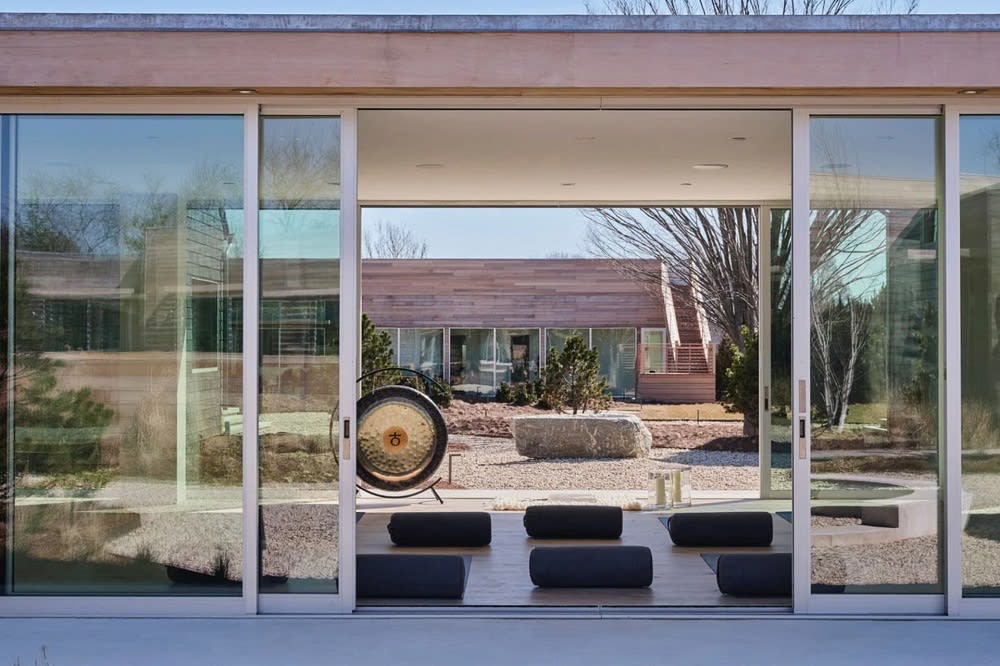 Shou Sugi Ban
Finding the time for self-care is difficult when you run a busy schedule.
Shou Sugi Ban
encourages you to carve out time for some unique and much-needed treatments at their luxury Hamptons spa. A private sanctuary, Shou Sugi Ban shrugs away everyday barriers to relaxation amidst evergreen trees and flourishing grasses. Overnight retreat programs offer guests the opportunity to stay overnight and recharge with amenities such as Japanese soaking tubs, private patios, top-notch breakfast, and a morning movement class.
Immerse yourself in wellness with dozens of available spa treatments during your stay at Shou Sugi Ban. Advanced skincare comes in the form of facials and full-body therapies, including the Botanical Body Ritual, where your entire body is dry brushed to enhance tissue repair before receiving skin treatments and a massage. Reflexology, a cleansing facial, and a scalp massage improve and complete the full-body experience. For more in-depth descriptions of their offerings,
review their Wellness Menu
.
Shou Sugi Ban gets its name from an ancient Japanese treatment in which wood (traditionally Japanese Cedar) is burned until charred on one side, then coated with an oil to preserve the appearance. The method combines earth and fire to create a water-resistant result so beautiful that Shou Sugi Ban has recently gained new popularity with U.S. designers.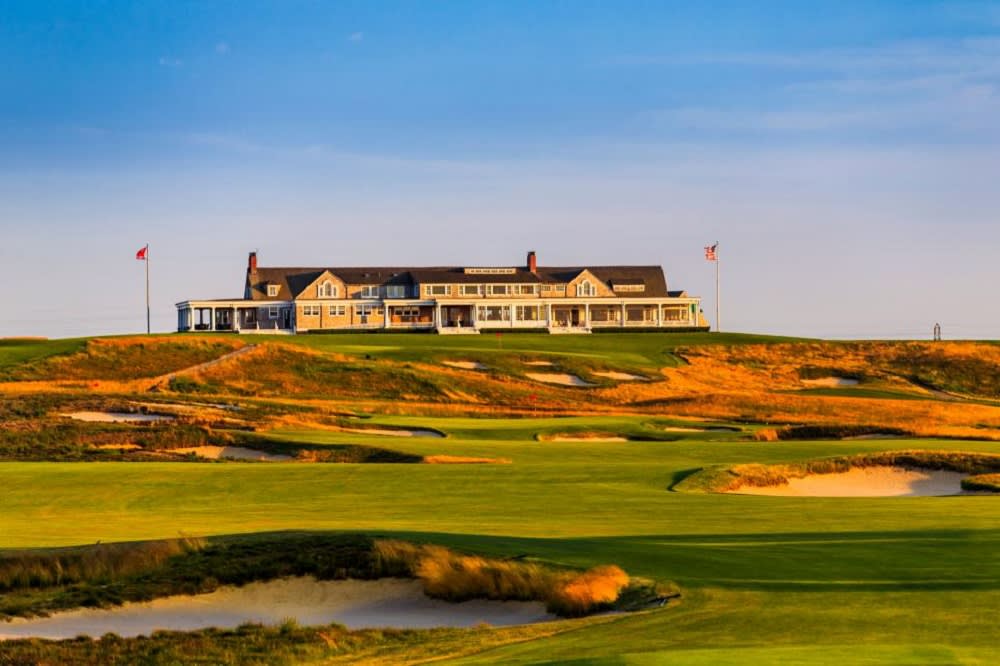 Photo courtesy of Shinnecock Hills Golf Club
Lavish Golf Courses
For some, relaxation begins with movement. Taking in the outdoors, walking the greens, and concentrating on the game brings golfers a unique sense of tranquility. There are many options for tailoring your golf game to an experience that best serves you, but it starts with choosing the right course. The Hamptons are home to a number of quality courses, each with unique characteristics. Ideal spots for short nine-hole games or 18 hole matches can be found throughout the Hamptons. Among the most exclusive locations are the private clubs and courses listed below:
Vineyards and breweries
It may come as a surprise that before they were an in-demand vacation destination, the Hamptons were primarily rooted in agriculture. While the land was claimed and transformed into glamorous estates, residential areas, and retail districts, many neighborhoods in South Fork still reflect the area's farming history. Up until 1980, Long Island was known for its potato exports. While some of these farms remain, you're more likely to come across the next generation of Long Island crops: grapes and hops. Today, you're able to visit the stunning vineyards run by local wineries, as well as spectacular craft breweries.
The wine produced in the Hamptons is unique. Visit a winery tasting room like the
Wölffer Estate
to relax and get to know the region's best vintages. Up the road,
Sagaponack Farms Distillery
produces vodka and gin from local potatoes and grains and offers a lovely tasting room to enjoy bloody marys and farm vistas. If you find yourself sipping on a
Channing Daughters
blend, you'll taste grapes from six vineyards across Bridgehampton. The flavors are local and precisely what you need as you decompress and de-stress.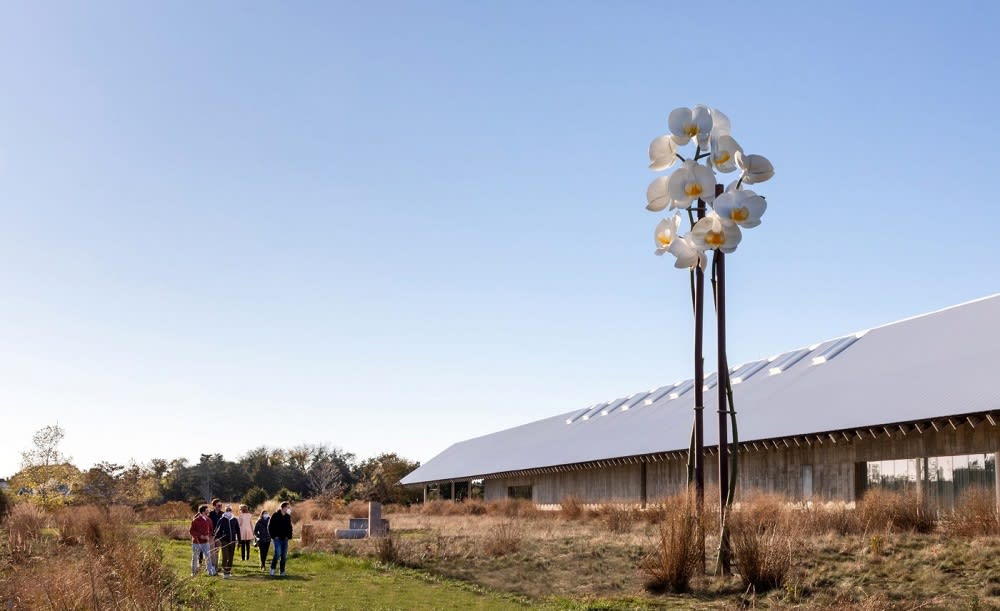 Hamptons' museums and galleries
The Hamptons are so much more than a luxurious beachside getaway. The area is home to multiple art galleries and museums that document Long Island's history and showcase works from local artists. Museums like the
Parrish Art Museum
offer a peaceful pastime for those looking to relax. Originally a gallery featuring Samuel Longstreth Parrish's Italian Renaissance art collection, the museum has since expanded to encompass a more extensive variety of work, featuring pieces produced by North and South Shore artists. Fifteen exhibitions take place throughout the year, showcasing 3,000 pieces. The
Long House Reserve
in East Hampton offers sculpture, collections, an art shop, and programs set amongst world class gardens for experiences of exceptional peace and tranquility.
Are you searching for Hamptons luxury homes for sale?
The best way to get to know the Hamptons is to contact an experienced local real estate agent. If you're ready to view Hamptons real estate for sale, reach out to
trusted local realtor Dana Trotter
for the best luxury listings in Sag Harbor, Bridgehampton, East Hampton, and the surrounding neighborhoods. As one of Sotheby's top realtors in the nation, Dana has the skills you'll need to secure the home of your dreams.
Contact Dana and her team today
!