With spring in full swing, now is the perfect time to get outside and soak up the longer days. Thankfully, the Hamptons has a plethora of places where you can experience the best of dining outdoors — and we're here to tell you about a few of them!

Whether you are looking for a special place for date night or hoping to enjoy a night out with friends, read on to learn about ten outdoor dining options in the Hamptons.
Babette's
Eating healthy is an important part of maintaining a healthy lifestyle. Lucky for you, Babette's is known for its healthy yet delicious food! Located in East Hampton, Babette's has been focused on offering the community clean food since they first opened in 1995. Their menu is based on dishes that are seasonal and organic, supporting farmers and growers who are committed to sustainability and quality. Here you can find organic meats, wild and local fish, and a variety of gluten-free options.

If you're looking for something extra refreshing, they also have a juice bar with a wide assortment of fresh juices, smoothies, and specialty drinks. There is also coffee and tea available if you're looking for a pick-me-up. Regardless of what you decide to order, Babette's is sure to impress.
Cove Hollow Tavern
Cozy Cove Hollow Tavern is a fantastic destination for French-Mediterranean fare with a seaside spin. This eatery's menu makes upscale dishes approachable, such as goat cheese and tapenade crostini, harissa lamb burgers, and brie cheesecake for dessert. For a seamless evening at Cove Hollow Tavern, you'll want to call ahead for reservations.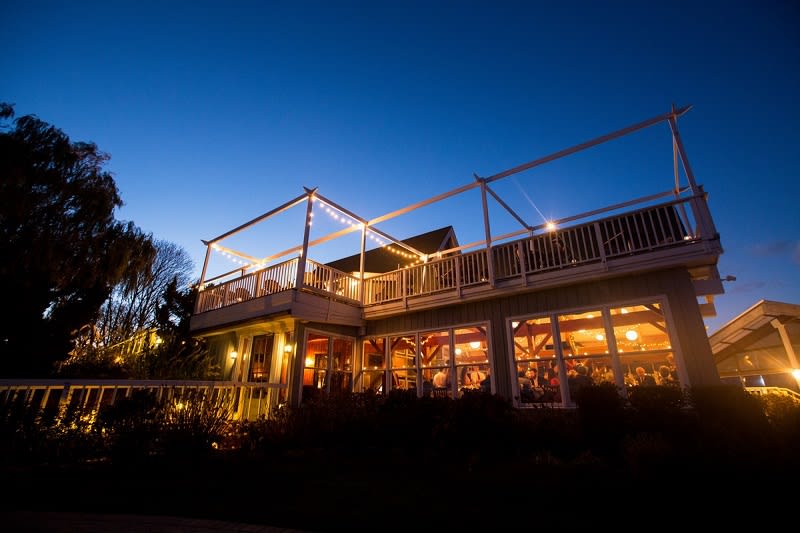 Credit: Cowfish
Cowfish
If you're looking to enjoy a special evening outdoors, then check out Cowfish. This Hamptons Bay-based restaurant has been serving the community since it was originally opened in 2012. They are passionate about celebrating a love of food and togetherness, all while offering guests spectacular views of the water while dining. The creative and flavorful menu features a combination of perfectly spiced meat and poultry and hearty fish dishes. The menu is also crafted with the freshest ingredients, which will leave you and your guests with a lasting impression. At Cowfish, you can enjoy waterfront views, a kids' play area, a spacious outdoor bar, and a patio area that overlooks the peaceful canal. With friendly staff, scenic views, and a welcoming atmosphere, it's hard to top an experience here.
Sant Ambroeus
If you're looking to enjoy some top-notch Italian food, head over to Sant Ambroeus. This chic Italian eatery has a location in Southampton, which has been a part of the community since they first opened their doors in 1992. The outdoor vine-covered patio, which is secluded from the hustle and bustle of Main Street, is a great spot to enjoy a romantic meal outdoors. When it comes to the menu, Sant Ambroeus uses only the highest quality ingredients in every product. All of their products, from biscotti to panini, are made from scratch from carefully crafted recipes. Their menu consists of a wide variety of authentic Italian dishes, ranging from caprese invernale to tagliatelle alla bolognese. With decadent dishes and attentive staff, Sant Ambroeus aims to please.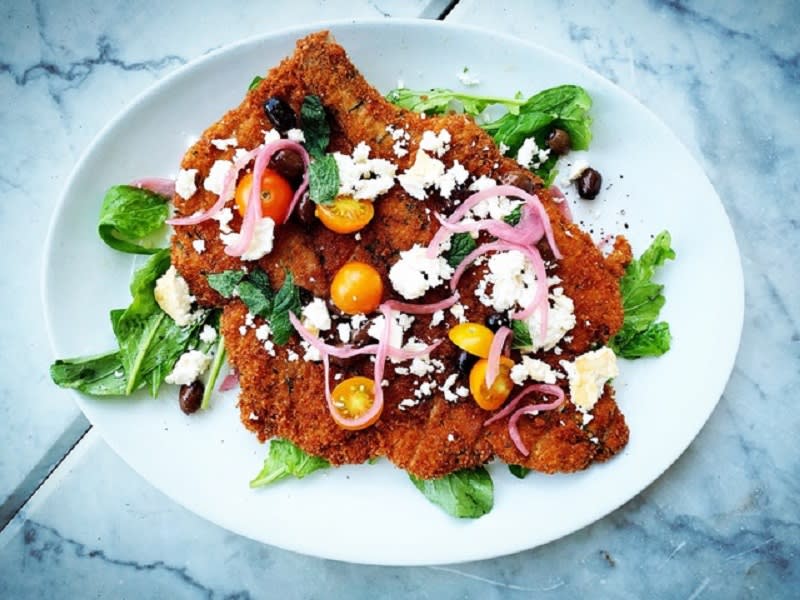 Credit: Almond
Almond
Looking to experience upscale dining to celebrate a special occasion? If so, then make reservations at Almond, which is located in Bridgehampton. This elite French bistro, which has been part of the community since it opened in 2001, is nestled inside a 100-year-old historic building with vintage touches like tin ceilings, a hand-carved bar, and classic white subway tile.

Here you'll find farm-to-table fare in a cozy and comfortable atmosphere. Almond offers a seasonal and daily menu that is driven by market-fresh ingredients. The menu ranges from classic French cuisine to ethnic street food to everything in between. Each day of the week has a special, including meatless Mondays and Taco Tuesdays. To make it even more impressive, Almond was named by Newsday as the best new restaurant of 2011. Stop by to discover all this Bridgehampton bistro has in store!
Bridgehampton Inn Restaurant
The restaurant at the historic Bridgehampton Inn offers unparalleled service in an exquisite environment that feels far removed from the uptempo pace of modernity. The Bridgehampton Inn Restaurant is open all year round, and menus shift seasonally to accommodate the freshest, locally gathered ingredients and feature stunning dishes from breakfast to after-dinner dessert. When the weather's nice, you'll love dining under the string lights in the gorgeous garden.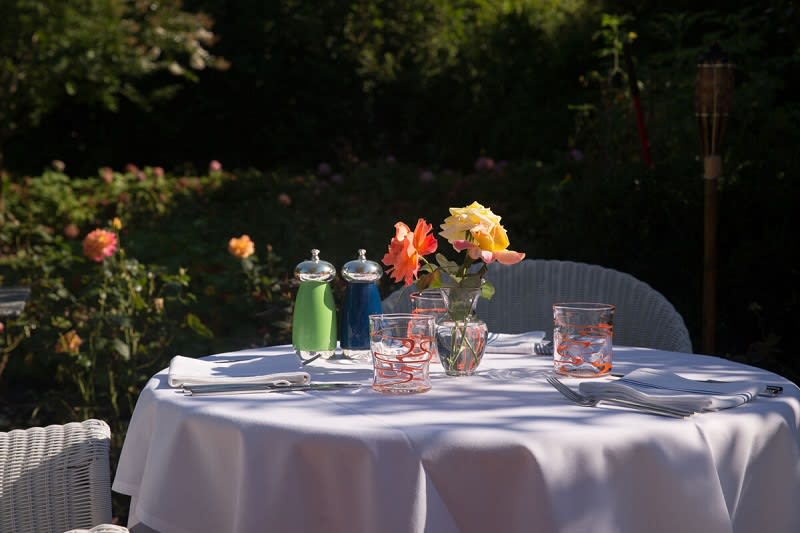 Credit: Bridgehampton Inn Restaurant
75 Main
75 Main has long been a favorite among locals, and it's not hard to understand why. Since opening in 2010, this eatery has been providing the Southampton community with impeccable cuisine and atmospheric excellence. 75 Main specializes in modern Italian fare served in its chic environment as well as outdoors. Bolstered by the cooking of the award-winning chef and the stellar customer service, 75 Main has gained a remarkable reputation.
Calissa
While traveling to Greece might not be in the cards at the moment, you can still experience the very best of Greek cuisine at Calissa. The word Calissa is derived from the brightest constellation in the summer sky. After all, there's nothing more romantic than dining under the stars. This Mykonos-inspired restaurant is located in the Hamptons and offers local Montauk fish and Greek food, including salt-baked fish, seafood pasta, and Mediterranean mezze. They also offer an impressive wine list, which has even been awarded The Award of Excellence from Wine Spectator and boasts the largest selection of rosé in the Hamptons. Whether you're ordering for delivery or taking advantage of outdoor dining on a warm spring evening, Calissa offers a truly unforgettable experience.
Coche Comedor
For distinct flavors in a lively environment, look no further than Coche Comedor. With a menu designed for sharing, this uptempo Mexican-inspired eatery is serving up something for everyone. Whether you're stopping in for margaritas on the rocks or enjoying dinner with the whole family, Coche Comedor's elevated fare ranges from chips and freshly made guacamole to apricot tamarind glazed half duck. Coche Comedor doesn't take reservations, so come early and grab a drink from the bar — it'll be worth the wait!
Navy Beach
Is it really spring on the East End if you haven't been to Navy Beach? This casual eatery serves up delicious seafood in a laid-back and family-friendly environment. Named by Newsday as one of the top five water-view dining spots on the East End, this is an experience that you don't want to miss. Navy Beach is nestled on a 200-foot private Island that overlooks Fort Pond Bay and Gardiner's Island, with spectacular views over the water during the day. The restaurant's stellar location offers both interior dining in a nautically themed bar and dining room, as well as outside at picnic tables on the beach. The beachfront location welcomes safe boaters to anchor in the protected waters of Fort Pond Bay, which was once occupied by the US Navy. While you dine outdoors, you can soak in some of the best sunsets on the Eastern Seaboard. So grab a cocktail, try out some seafood, and take in that sunset!
Tutto il Giorno
There's little that beats authentic Italian food, and you get a taste of that authenticity at Tutto il Giorno. Originally established in 2009, this eatery has also opened a location in Southampton. It all started as a dream to create European, outdoor dining in the Hamptons, and that dream has since grown into a modern family of restaurants from the Hamptons to New York City and beyond. Tutto il Giorno has a casual yet elegant ambiance, as well as a beautiful private garden that makes for an intimate and serene dinner. The heaters on the back patio will keep you warm as the evening cools down.

The expansive menu features a wide assortment of authentic Italian staples. For an appetizer, consider trying out the cavatelli, polpette, or parmigiana. The penne, linguine, and rigatoni are popular options if you're craving a pasta dish. No matter what you choose, all of the dishes are made with fresh, high-quality ingredients. With candles, low lighting, and delicious cuisine, it's hard to imagine a more picturesque experience. It's a great spot to celebrate a birthday, anniversary, or any other special occasion. However, it's often busy here, so be sure to make reservations in advance!
The 1770 House Restaurant & Inn
If you enjoy delving into history, then you just might love dining at The 1770 House Restaurant & Inn. This structure was originally built in 1663 and was converted into an inn in 1770. Since then, it has garnered a reputation for its warmth and hospitality. Although much has changed since its humble beginnings, the inn has still managed to retain its original architecture and colonial charm. From the steep wooden staircase to the exposed ceiling beams to the book-lined lounge with an antique fireplace, this inn provides the perfect setting to enjoy an intimate dinner. Guests at the inn can choose from two dining scenes: contemporary American food or casual and traditional pub food. Each setting has a distinctive atmosphere and enjoys The 1770 House's signature quality and service.
Fresno Restaurant
Fresno Restaurant is an East Hampton dining tradition that offers an exciting twist on New American cuisine. This restaurant has a relaxed and welcoming ambiance and a spacious patio where you can enjoy a warm summer evening. Their diverse and creative menu has something for everyone. To start off, consider trying the fried calamari with spicy sriracha aioli or the black bean soup. For the main course, perhaps try the ribeye or slow-braised beef short ribs. You'll be happy with the top-notch food and high-quality customer service!
If you're looking to explore homes for sale in the Hamptons, contact Dana Trotter today. As one of the most sought-after real estate agents in the area, Dana serves a wide range of neighborhoods and is an expert in everything from Bridgehampton lofts to new homes in East Hampton. Her experience and passion are the perfect ingredients to help you find your dream home.